Academic Program Information
The following information is gathered from the UCF catalog, the Undergraduate Policies and Procedures Manual, and other documents that describe the IT undergraduate program. This web content should not be considered a legally-binding document. It is not necessarily exhaustive and is subject to change.

All UCF students must fulfill a 36-hour General Education Program (GEP) requirement. Students who received an A.A. degree from a community college in Florida should be able to complete the B.S.I.T. requirements in 60 additional hours at UCF – provided that the A.A. elective choices have been made appropriately. Students coming with an A.S. degree must take additional courses to complete the B.S.I.T. requirements. Please consult the UCF catalog for specific details.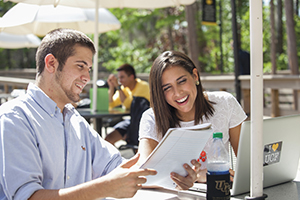 Students must complete 120 semester hours of course work with a Grade Point Average (GPA) of at least 2.0, and must satisfy all University and Information Technology Program requirements to earn the B.S.I.T. degree.
Any student wishing to receive a second Bachelor's degree should consult the University catalog. A student must be a declared Information Technology major to earn the B.S.I.T. degree. The State of Florida requires at least nine (9) hours of course work be completed during summer terms unless the student has already met this requirement while earning an A.A. degree.
SUS FOREIGN LANGUAGE ADMISSION REQUIREMENT
To be admitted to UCF, The Florida State University System (SUS) requires two (2) years of high school foreign language (or equivalent). This is the Foreign Language Admission Requirement. In some cases, students who have not satisfied this requirement (two units in the same language) at the time of admission must satisfy the requirement prior to graduation. Students may have the option of fulfilling this requirement through examination; for more information contact SARC's University Testing Center at (407) 823-5109.
Note: This admission requirement applies to all undergraduates and is separate from the UCF Foreign Language Proficiency Requirement.