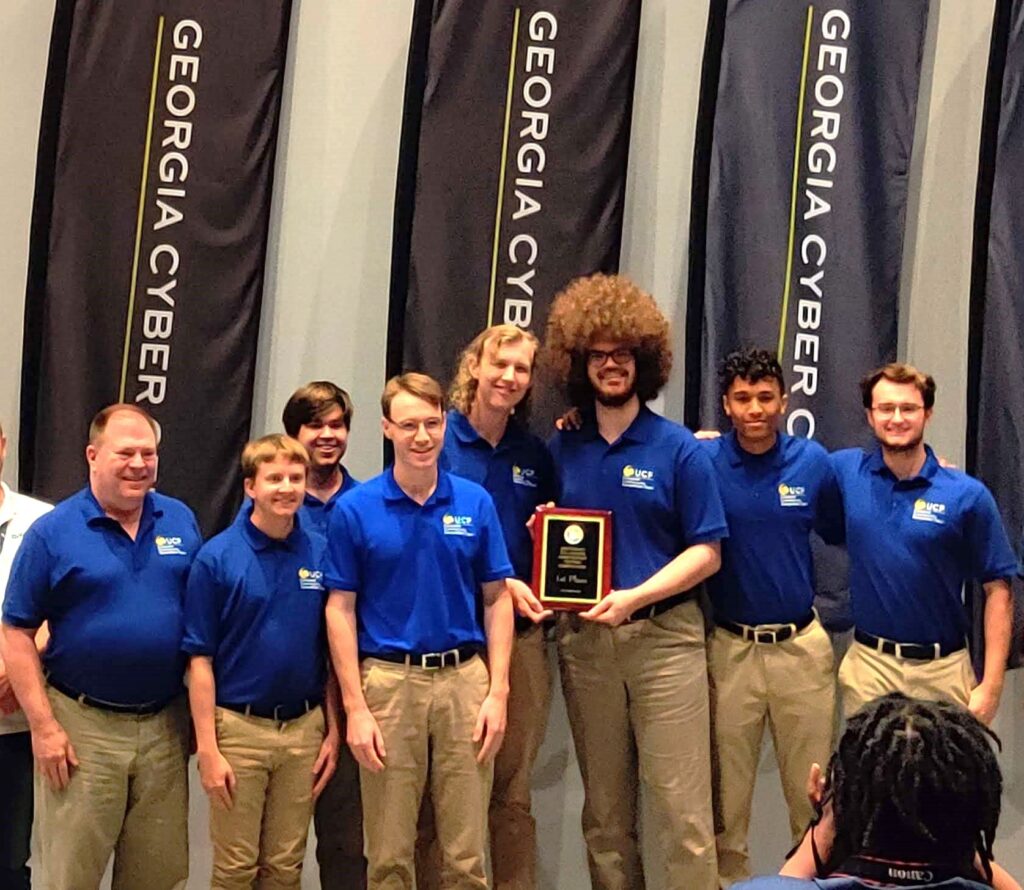 A team of six Knights – IT sophomore Noah Magill; IT senior Colton Knight; computer science seniors Zachary Groome, Harrison Keating and Matthew McKeever; and cyber security and privacy master's student Jeffrey DiVincent – took first place in the Southeast Collegiate Penetration Testing Competition Regional.
Ten schools were selected to compete in the southeast division of the competition, which took place at the Georgia Cyber Center in Augusta, Georgia, out of the 14 who originally submitted requests for proposals to the contest organizers in September. The University of Florida placed second overall, while the University of South Alabama placed third.
Unlike red team vs. blue team or capture the flag competitions, penetration testing, also known as pen testing or ethical hacking, simulates what cyber security professionals undergo when searching for vulnerabilities at their own companies. Competitors rely on their skills to test the corporate environment, taking care not to disrupt daily business operations in the process. In this competition, the teams were "hired" as consultants to assess cybersecurity at a fictitious company.
"The teams spent nine hours on Saturday running tests, hacking into systems and assessing risks imposed by those discovered vulnerabilities," says Tom Nedorost, C3 team coach. "The teams then spent seven hours writing a report summarizing their results and recommendations which were due at 1 a.m. on Sunday morning. The Global Collegiate Penetration Testing officials graded the teams' finding and reports and announced the winning teams on Sunday afternoon."
The C3 team for this competition includes alternates Miles Rack, a freshman studying computer science who traveled with the team to Augusta, and IT senior Andy Pompura. They support the team as alternates in the event of a lineup change at the next competition.
With this regional competition win, the team will advance to compete in the Global Collegiate Penetration Testing Competition at Rochester Institute of Technology in January 2024.