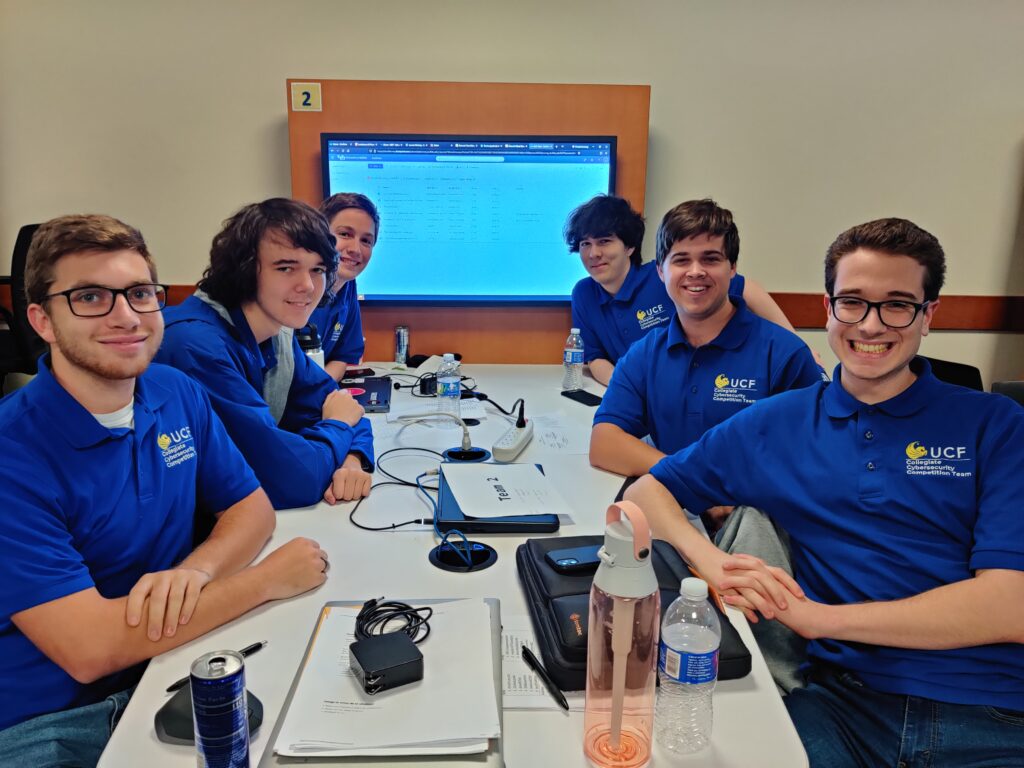 A team of six Knights won the second-place award at Lockdown, a cybersecurity competition hosted by the University at Buffalo on Oct. 21. The winning team members were sophomore computer science majors Andrew Terry and senior Milo Gilad, sophomore IT major Noah Magill, and senior IT majors Andy Pompura, Caleb Sjostedt and team captain Caleb Wisely.
The student-run competition welcomed 15 teams from California, Florida, New York, Utah and Virginia. The University of Virginia took first place and the Rochester Institute of Technology won third place.
The event, geared toward beginner and intermediate participants, split competitors into red teams and blue teams. The UCF Knights competed defensively as a blue team, protecting a simulated corporate environment for nearly six hours against red-team attackers attempting to infiltrate its networks. All the while, the defensive teams were to maintain business as usual, keeping their networks fully functional while also addressing IT tasks during the contest.
Scores were determined by two factors, uptime and injects. Half of the team score was based on service uptime, the percentage of time services are "up," or functional and accessible. The other half of the team score, injects, was determined by how well the team performed the business tasks given by the competition judges. These tasks were evaluated based on the percentage of completion as well as the quality of the work submitted.
All of the challenges put forth were designed to mimic real-world scenarios, giving the competitors valuable experience in honing their skills for future competitions and in their future careers as cybersecurity professionals.
"The competition allows students to demonstrate their technical skills, business acumen and ability to work as a member of a team to solve challenging issues," says C3 team coach Tom Nedorost.
The UCF C3 team will next compete at the Department of Energy CyberForce competition on Nov. 3 and 4 in St. Charles, Illinois.