The event was the first hackathon for more than half of the participants, providing students an entry into these competitive and valuable experiences.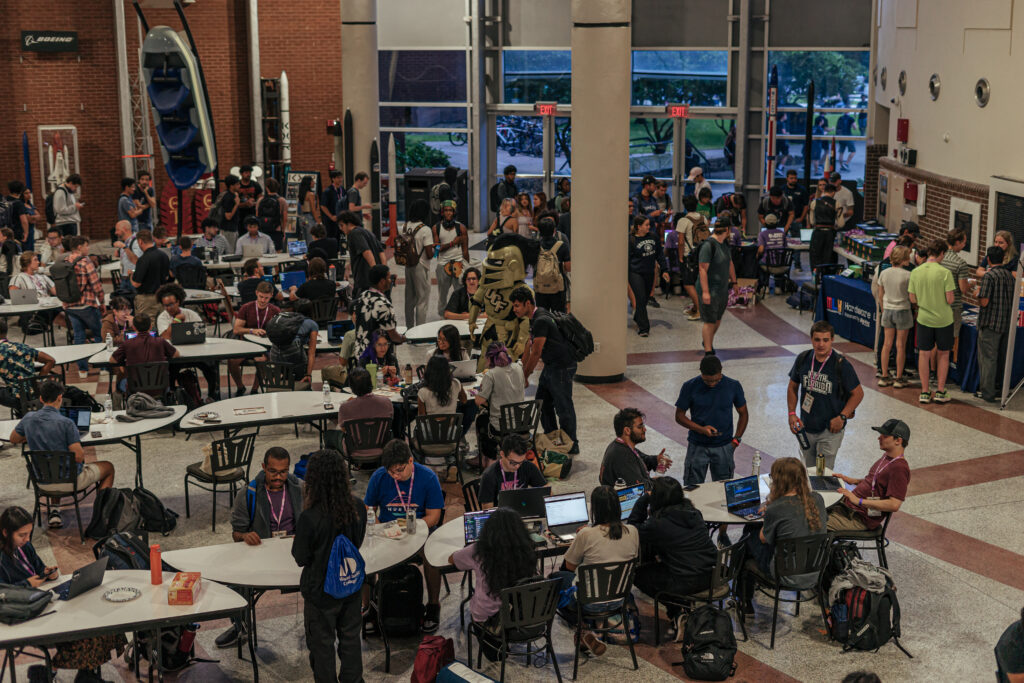 One idea, 36 hours and lot of passion and drive — these were the key elements of Knight Hacks 2023, sponsored by UCF student organization Knight Hacks, which drew a record-setting 700 attendees including students from Florida International University, the University of Florida and the University of South Florida.
From an app that locates the nearest water bottle filling station to an AI-enabled legal assistant, there was a hack for that, all novel ideas by attendees who embraced the hackathon culture of learning and growing by creating. Participants had just 36 hours to conceive and develop an original "hack," or innovative solution for a task, evaluated by judges at the end of the event.
Nick Lamontagna, a junior majoring in computer science and the president of Knight Hacks, says the club was created to help computer science students connect what they are learning in the classroom to the real world.
"Knight Hacks as a club inspires others to pursue greater and larger endeavors in technology," he says. "We empower people who maybe aren't really familiar with how to build that thing that they really want to build and bring them up to the level to where they can make something they're proud of."
Hands-On Experience Outside the Classroom
Hackathon attendees Zandryn Epan, Gabby Rose and Andrea Vinas, first-year computer science students, spent the weekend developing a dress-up game that recommends clothing inspired by the event's sponsors, including Geico, Morgan & Morgan and Royal Bank of Canada, based on answers from a questionnaire.
Their group was part of the 60% of attendees experiencing their first hackathon, and the 15% within that group who are first-year students.
"I knew I needed to get into the field early and get some experience to get my foot in the door, so I decided to join," Epan says.
A few tables away, sophomore Wei-Lin Chou, senior Adam Whitlock and first-year students Haresh Palli and Daniel Rivera, all computer science majors, were building a website and app that tracks the nearest bottle refill station on campus. The group wanted to reduce the number of plastic bottles used and encourage people to drink clean water.
It didn't matter to them that they were all working in the Engineering II atrium over a weekend, on a project a professor hadn't assigned.
"I really wanted to look for experience outside of the classroom to manage a project. I wanted to build something that I care for and am passionate about," Chou says. "I also wanted to meet new people who have the same passion as me."
Empowering Future Programmers
Lamontagna says that their hackathon gives students the opportunity to develop a project and collaborate with a team, just as they would in their senior design projects, but much earlier. He adds that it allows students to practice their skills before their senior year, boosting their confidence and dispelling a common belief among younger students that "they're not good enough yet."
"This hackathon is our first step toward truly knocking down that wall," he says. "I want to not only tell people you're good enough, I want you to show people you're good."
In the spirit of building confidence and introducing new experiences, Hack@UCF, the university's cybersecurity club, hosted two competitions during the event, drawing in 120 competitors from the hackathon. Horse Plinko, named for a humorous gif of a horse falling through the pegs of a plinko board, is the club's signature competition geared toward beginners. Competitors served as blue team members, defending their network against Hack@UCF red team members who attempted to infiltrate their systems. The club hosted two competitions of 60 participants each, one on Saturday and one on Sunday.
A Hack for Employers
The confidence and hands-on experience gained from hackathons can make a big impact on future careers. Brandon Melendez, integrated business major and public relations director for Knight Hacks, says a hackathon gives employers who sponsor the event a valuable opportunity to see students at work. Knight Hacks says the event would not have been possible without support from 40 sponsors — including Microsoft, Lockheed Martin, Siemens, GEICO, RBC, Next Era Energy, Dark Wolf Solutions, Texas Instruments, Sandia National Laboratory, Naval Nuclear Laboratory and Morgan & Morgan — who contributed in numerous ways, including assistance with funding the event, participating in the career fair, hosting challenges for the students, and observing and asking questions as students worked on their hack.
"At the end of the day, this is one of the best ways for them to get an accurate gauge on what their talent is properly capable of," Melendez says.
Event sponsor and law firm Morgan & Morgan was able to experience this first-hand this past spring when they reached out to Knight Hacks to organize a hackathon for their firm.
Morgan & Morgan Chief Information Officer Ryan Colbert says the firm has been undergoing a digital transformation effort into much more of an agile software-driven organization. He adds that partnering with Knight Hacks on a hackathon organized for their firm was an excellent opportunity for students to contribute to the effort while also giving them a chance to develop their skills along the way.
"Data drives a lot of our business at this point, and the tools and technology are so rapidly evolving that we felt like the best place we could get the talent we need is directly from the college campuses," Colbert says. "The energy and the creativity and the enthusiasm that we got from the students was invigorating for our team, and we collaborated on new ideas and new technologies that our engineers had never even heard of before."
The firm was so impressed with the club's efforts that they hosted a challenge as well. Attendees were tasked with creating an artificial intelligence legal assistant for Morgan & Morgan. The winning solution was required to understand each new piece of information for a case, extract pertinent information, analyze its impact and make updates to the firm's case management systems, giving its lawyers the knowledge thy need to best approach their cases.
Morgan & Morgan also hosted a workshop to demonstrate another UCF student-created product at the hackathon, RuthGPT, developed by computer science students and firm interns Mark Bruckert and Owen Burns. The software allows the firm's staff to ask questions about any of its cases in Salesforce.
"The opportunity to partner with UCF and the students on campus has accelerated our digital transformation and adoption of new and cutting-edge technologies faster than anything else we had tried to date," Colbert says.
Being Good Enough
At the end of the 36 hours, students are invited to submit their projects and present it to the judges. Lamontagna says whether you submit or not, the experience of the hackathon itself is what's most valuable.
"These are people that we've introduced to the culture of hackathons, introduced to that culture of you should always be learning, you should always be striving to do better. And now we can go even further," he says. "People are going to then say, 'Hey, I was where you were. You are good enough. You can do this.' And then when these people get to senior design, they're ready."
Posted from UCF Today story Success Hacks: 700 Students Attend UCF Knight Hacks' Largest Hackathon by Bel Huston