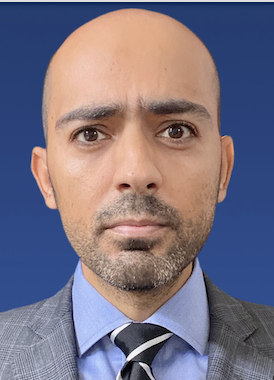 I am an Associate Professor of Computer Science at the University of Central Florida. My research focus is computer security and online privacy, including applied machine learning[1][2], DDoS attacks and defeses[3][4], blockchain systems and their security[5][6], software analysis and security[7][8], critical infrastructure security[9][10], IoT security[11][12], and wearables security[13][14]. I obtained my PhD from the University of Minnesota, working with Yongdae Kim (advisor) and Nick Hopper. At UCF, I direct the Security and Analytics Lab (SEAL).
I am a Senior Member of ACM (since 2018) and IEEE (since 2015), a Distinguished Speaker of ACM (2021-2024; request) and Distinguished Visitor of IEEE's Computer Society (2021-2023; request).

More details are in my CV and statements (research, teaching, service, diversity efforts, impact).
Teaching: Fall 2021: Foundations of Computer Security. Office Hours: (Summer 2021): by appointment.
Openings: I am always looking for UCF B.Sc./M.Sc. students to work with me on exciting projects in the area of computer security and online privacy. Email me (at mylastname@ucf.edu) for more details.
Doctoral Advisees
I am very proud of the talented current and past students I had the opportunity to work with (complete list)
Ahmed Abusnaina, PhD candidate, computer science
Sultan Alshamrani, PhD candidate, computer science
Ulku Meteriz, PhD candidate, computer science
Abdulrahman Alabduljabbar, PhD student, computer science
Mohammed Alkinoon, PhD student, computer science
Afsah Anwar (2021), postdoc at Northeastern University
Muhammad Saad (2021), researcher at PayPal
Rhongho Jang (2020), assistant professor at Wayne State University
Mo Abuhamad (2020), assistant professor at Loyola University Chicago
Jeman Park (2020), postdoc at Georgia Institute of Technology
Jinchun Choi (2020), postdoc at Texas A&M University
Hisham Alasmary (2020), assistant professor at King Khalid University
Ashar Ahmad (2019), director of research at Clear Village Inc.
Jeffrey Spaulding (2018), assistant professor at Canisius College
Selected Recent Talks
Selected Conference Publications
Also my DBLP and Google Scholar profiles for complete lists
Recent Journal Publications
Teaching
Service
Current Service. I am currently serving on the PC of ACM WiSec 2021, PETS 2021, and IEEE ICDCS 2021 (co-chair of the Blockchain track) -- submit your work. I am also the vice chair of the IEEEE Technical Committee on the Internet (TCI). I am also an associate editor of IEEE Transactions on Mobile Computing, IEEEE Transactions on Parallel and Distributed Systems, Elsevier Computer Networks, and ETRI Journal (Wiley). Previously, I served on ACM CoNEXT 2019 (general chair), SecureComm 2019 (PC chair), ISOC NDSS, PETS, ACM MobiSys, WiSec, ACM AsiaCCS, IEEE INFOCOM, ICDCS, CNS, WWW, etc. More details on my other services are shown here.
Sponsors: Supported by NSF, NRF, AFRL, AFOSR, NVIDIA and CyberFlorida, etc. NSF CNS-180900
Outreach: K-12 STEM Day, Fox 35 (Available for media stories via UCF Communications)
Trivia: Up until late 2019, I went by Aziz. I enjoy endurance running
Contact: HPA2-240, 4000 Central Florida Blvd, Orlando, FL 32816, USA. last_name@ucf.edu
---
Website last updated on 04/28/2020