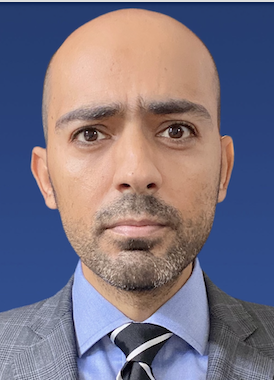 Associate Professor
Dept. Computer Science
Dept. Electrical and Computer Engineering (joint)
Director, Security Analytics Research Lab (SEAL) co-Director, Research Lab of Big Data Security
Member, Cybersecurity Faculty Cluster Initiative
University of Central Florida 4000 Central Florida Blvd., Orlando, FL 32816, USA
Phone: 407-823-1294, Fax: 407-823-5835
Openings:
We are always looking for talented Postdoctoral Scholars (
P3
), and motivated Ph.D. students (Blockchain, IoT security, software security) to join our group. Drop me a line to learn more.
Biography: I am an Associate Professor at UCF's CS / ECE (joint) departments. Earlier, I was a researcher at ETRI, a (senior) researcher at Verisign Labs, and a faculty member at SUNY Buffalo. I work on computer security and privacy, focusing on malware, denial of service, domain name system, Internet of Things, Blockchain, and mobile systems. I am a senior member of ACM (2018) and IEEE (2015) -- DBLP and Google Scholar.
▬ Recent News
06/2018:: SEAL hosted 80 k-12 students for a security summer camp via Camp Connect. Check out some of the photos
06/2018: Jeff accepted a tenure-track Assistant Professor position at Niagara University. Successfully defended, too!
04/2018: I was elevated to the rank of ACM senior member (IEEE senior member since 2015).
04/2018: FC2 funded our project on mobile security training (joint with Karim Elish from Florida Poly). Thanks FC2!
04/2018: Served as an offense to the defense of An Wang (GMU) and Amirali Sanatinia (NEU)! Well done! Congrats!
04/2018: One paper accepted in SECURECOMM 2018. Congratulations to Afsah and Amin!
04/2018: Two papers accepted to IEEE ICDCS 2018. Congratulations to Sungha, Youngdon, and Shinyoung!
03/2018: Incremental funding from AFRL for blockchain research! Thanks AFRL!
04/2018: Ahmed will be funded by an ORC fellowship for 2018/2019! Congrats, Ahmed.
03/2018: FC2 funded our project on thwarting APTs in IoT (joint with My T. Thai from UF). Thanks FC2!
02/2018: We welcomed Ashar, Jinchun, Jiyoo, and Ahmed for their Ph.D. studies.
02/2018: Two papers accepted at ICASSP 2018 (QoI and DigitalSEAL). Congrats to Jeman, Hisham, and Changhun.
01/2018: Two papers were accepted in IEEE Trans on Dependable and Secure Computing. Congrats to An and Wentao
01/2018: I was invited to the editorial board of IEEE Transactions on Mobile Computing. Submit your best work!
11/2017: NSF funded our work on understanding abuse of privacy enhancing technology. Thanks NSF!
11/2017: I am co-chairing The 6th Workshop on Security in Cloud Computing (ACM ASIACCS-SCC). Consider attending!.
08/2017: NVIDIA donated GPUs for our research work on malware analysis. Thanks NVIDIA!
08/2017: We received funding from AFRL to pursue research on blockchain security. Thanks AFRL!
08/2017: One paper accepted at the SECURECOMM 2017. Congrats to An and Wentao!
08/2017: Two papers accepted at ACM HotWeb 2017. Congrats to Jeff and Omar!
08/2017: One paper appearing in IEEE/ACM Transactions on Networking (DNS measurement)
06/2017: Five papers, a demo and a poster @ IEEE ICDCS 2017. Congrats to Jeff, Jiyoo, Feng, Si, An, and Chaowen!
05/2017: One paper presented at IEEE INFOCOM 2017. Congrats to Fan!
01/2017: One research paper @ Financial Cryptography 2017 (privacy-preserving graph analytics)! Way to go, Qian!.
▬ Recent Publications
ACM CCS 2018

ISOC NDSS 2018

IEEE ICDCS 2018

IEEE ICDCS 2018

IEEE PST 2018

SECURECOMM 2018

IEEE ICASSP 2018

IEEE ICASSP 2018

ACM DLoT 2018

Comp & Security 2018

ACM/IEEE ToN 2018

IEEE TMC 2018

IEEE TMC 2018

IEEE TDSC 2018

IEEE TDSC 2018

IEEE ICC 2018

IEEE HotPOST 2018

RFC 8391 / 2018

IEEE ICDCS 2017

IEEE ICDCS 2017

IEEE ICDCS 2017

IEEE ICDCS 2017

IEEE ICDCS 2017

IEEE ICDCS 2017

IEEE INFOCOM 2017

Financial Crypto 2017

SECURECOMM 2017

ACM HotWeb 2017

ACM HotWeb 2017

ACM/IEEE ToN 2017

ACM WiSec 2017

ACM WiSec 2017

USPTO 2017

USPTO 2017

IEEE TIFS 2017

ISOC NDSS 2016

IEEE TKDE 2016

Comp & Security 2016

DIMVA 2015

ACM ASIACCS 2015

IEEE CNS 2015

IEEE DSN 2015

IEEE TDSC 2015

Comp & Security 2015

Comp & Security 2015

ACM IMC 2014

DIMVA 2014

DIMVA 2014

ACM WPES 2014

IEEE CNS 2014

IEEE TMC 2014

IEEE TDSC 2014

ACM ASIACCS 2013

IEEE TSC 2013

IEEE TVT 2013

ACM ASIACCS 2012

IEEE INFOCOM 2012

ISOC NDSS 2011

IEEE INFOCOM 2011

ACM IMC 2010
▬ Graduate Students
Current Students
Jeman Park (PhD, CS)

Hisham Alasmary (PhD, CS)

Afsah Anwar (PhD, CS)

Amin Khormali (PhD, CS)

Muhammad Saad (PhD, CS)

Ashar Ahmad (PhD, CS)
Jinchun Choi (PhD, CS)
Jiyoo Jang (PhD, CS)
Ahmed Abusnaina (PhD, CS)
Brandon Gray (PhD, CS)
Ulku Meteriz(PhD, CS)
Gone but not forgotten:
Jeff Spaulding (PhD, 2018)
@ Assistant Prof, Niagara U.
Joe D'Amato (MS, 2016)
@ The MITRE Corporation
Jesse Freeman (MS, 2016)
@ Department of Defense
Chris Weeden (MS'16)
@ Department of Defense
Woodams Clark, (MS, 2016)
@ Department of Defense
▬ Teaching
S'19: CIS 4361: OS Security
F'18: CIS 4615: Software Security
S'18: CAP 6133: Adv. Security
F'17: CIS 4615: Software Security
F'16: CSE 709: Adv. Security
F'16: CSE 410: Intro to Security
S'16: CSE 664: Applied Crypto
F'15: CSE 709: Adv. Security
▬ Features
Rogue AP Detection
Voice Impersonation