Course Overview

Lecture 1
Table of Contents
Overview
Welcome to Compiler Construction!
What do you want to get out of this course?
Intros
Why are you taking this course?
What do you hope to learn?
about me, research, positions

favorite course
program analysis and transformation, tool engineers
use course project to gauge interest
What I hope you will get out of thi
Some discrete math background (formal prereq)
Good programming
Command-line competence
Can install software on your own
Syllabus
http://www.cs.ucf.edu/~gazzillo/teaching/cop5621spring23/
go over syllabus

topics, course structure

focusing a lot of front-end, higher-level language constructs, transformation, and analysis

class structure
webcourses
slack
attendance, quizzes (one question, we go over same day)
homeworks (short, not graded strictly, just to keep up with course)
compilers project, design together in class, implement on your own
personal project, pick own project, implementation and present on your own
readings, summaries for homework

tentative list of papers
if you have topics of interest now or during semester let me know
Special topics
Technical content of some of my research
Guest lecture from a PhD student doing research
What would you like to see?

Functional languages?
Program analysis?
Transformation?
Code generation?
Optimization?
Compiler back-end
Course software
Linux OS
git, make, java

apt install git openjdk-11-jdk-headless build-essential

openjdk-11-jdk if you want ANTLR GUI

ANTLR parser framework

apt install antlr4
(I'll also provide the ANTLR lib with the projects)
Compiler Intro
What is a compiler?
What makes compiler-writing hard?
Three different programs

Input program
Ouput program
The compiler itself
Compiler vs. interpreter
Interpreter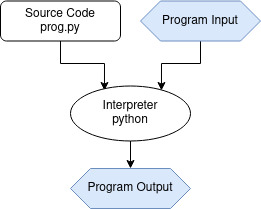 Compiler
Interpreter (with source)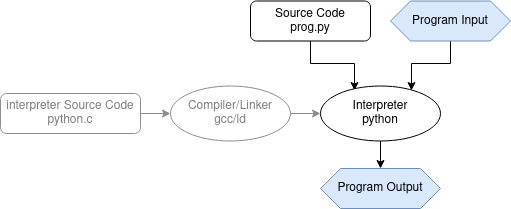 Compiler (with source)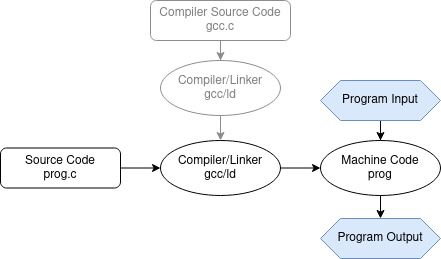 Compiler phases
Front-end
"Middle-end"
Back-end
Front-end
Language-processing

Remember regexes, grammar from discrete? (If you took it)

Type checking

Did I assign an array to a float?
Back-end
Code generation

Equivalent machine code for any valid input program

Optimization

Choose equivalent machine code that's faster, smaller, etc.
"Middle-end"
Intermediate code

Like machine code
Without machine specifics
Lots of different designs
Symbols vs. meaning
1 + 2 * 3
6 / 2(1 + 2)
一加二乘三
What gives symbols meaning?
Moon vs. finger pointing at the moon
the compiler itself defines meaning
defines input language in terms of output language
(why does output language have meaning?)
Homework
Join slack (see webcourses)
Setup your git repo (see webcourses)

Submit the webcourses assignment where you submit your class project repo

Setup your environment (vagrant as needed, java, git, etc.)